portraits and landscapes in oils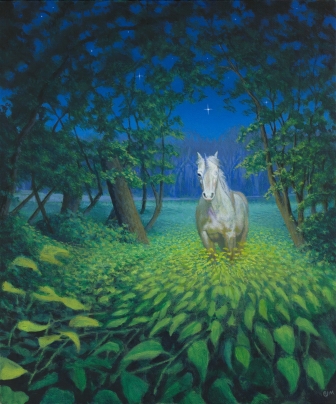 'Unicorn in Radley Wood' oil on canvas board.
The members' exhibition this year returns to The Town Hall, Oxford. This selected exhibition showcases the talents of the Art Society and includes a wide variety of media from painting and ceramics to sculpture and printmaking. On the 24th, 25th and 26th of February the exhibition coincides with the Oxford International Art Fair which is also taking place at the Town Hall.
Alan Mynall has two oil paintings hung in this exhibition: 'Gem' (see in the portraits gallery) and 'Unicorn in Radley Wood' (above, and in the portraits gallery). This is a great chance to see these new paintings 'in the flesh': and many more "tolerably good works of art."
all images and content of this website copyright Alan Mynall 2000-2017
website last updated 14 February 2017

Alan Mynall is a great fan of the Mike Harding Folk Show

no fools are kept in this website overnight